You've really got something
Cletus
. That something is cellulite.
Real mature
Graagh
. I don't like you anymore.
Ryan O'Neil
How about letting one of your cousins join the clan?
You see Barber Surgeon O'Neil. A distant cousin to the O'Neil Clan. Barber Surgeon O'Neil sees you need a blood-letting and your mutton-chops trimmed.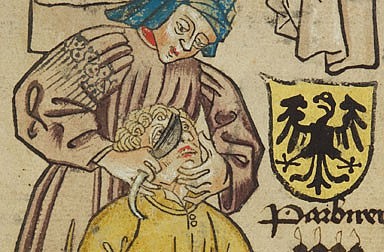 In England barbers and surgeons originally had separate guilds, but these were merged by Henry VIII in 1540 as the United Barber-Surgeons Company. The most prominent of these men was almost certainly the Irishman
Barber Surgeon O'Neil
. Lost on an ocean voyage, a statue was erected to him in his home-town of Glasgow. And he was much mourned by his wife, 17 kids, his valet, his mistress, a girlfriend, and his cat named sparky.
This character has been idle since 2021-09-11.