Neil Tathers
, I need my head back.
Neil Tathers
, I'll meet you in Raktam. Quit being so bossy.
After Carl Carlson was killed in a freak beer-pong accident, the weird figure of
The Abominable Dr. Lenny
was born.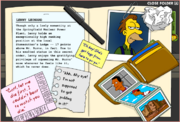 From "Dr. Lenny's Lab" he will strike at all of those he finds un-Carl-like.


mouse
HELLO. Can I join your clan? Maybe the faith skill will help me to find my inner Carl Carlson.
mouse
THANKS MAN!!!
This character has indicated they have peaceful intentions and would prefer not to be killed.
This character has been idle since 2018-05-10.